HORSES BOARDED
DAILY*WEEKLY*MONTHLY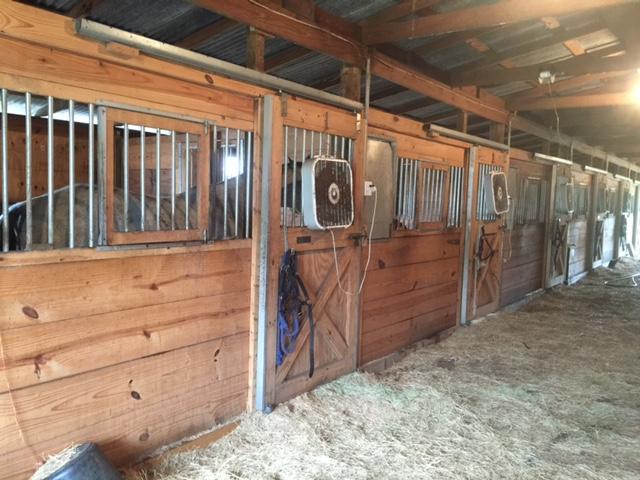 MAIN BARN
I am currently looking for some one that would like to board their horse in exchange for feeding at the Ranch. Please let me know if you are interested or know some one that maybe.
OUR FACILITY

We offer many different boarding options on our 25 acre facility. 12x12 stalls with private paddocks, round pen and riding arena with lights. We have Jumps, trail obsticles & more. Concrete wash rack with hot & cold water. Large tack room and grooming area. Full bath with shower. We are located 15 minutes from the beach which has special horse trailer parking.

904-753-1155

osbornequarters@aol.com



BOARDING

DAILY
Bring your horse on vacation with you & come ride on our Beautiful Beaches...
Daily Board is $25- a day. Bring your owe feed & hay. We will feed for you and clean stalls. Arriving any time on Friday & departing on Sunday is $75-.

***NO DOGS PLEASE*** Sorry but we do not allow anyone to bring dogs on to the farm. No exceptions. Thank you.

Negative Coggins & Health Certificate is required.

For reservations call or e-mail
904-753-1155
osbornequarters@aol.com




WEEKLY BOARD
$50- a week, This is our basic board. Your horse gets a 12x12 stall and private paddock. You do all the care for your horse. You provide your own feed & hay. You do all the feeding and clean the stall & paddock yourself. *THIS DOES NOT INCLUDE TURN OUT IN THE GRASS PASTURE.*

MONTHLY BOARD
$500- a month, your horse gets a 12 x 12 box stall inside the barn. We will hay and grain your horse twice a day. We will clean the stall. This includes turn out on the grass pasture and Fee Choice Hay in the pasture.
$400- a month, Your horse gets a 12x12 opened stall with paddock outside. We will hay and grain your horse twice a day. We will clean the stall and paddock. No turn out included.
We use a 12% sweet feed and coastal hay